The Day Has Come…
The "CrossFit Games" Of Football…
Super Bowl LII…
I Don't Really Have A Team… Danielley LOVES The Cowboys… But I Don't Think They're Playing Today…
But I Do Love Pizza!!!
Especially The MeatLovers From This Lil' Hole In The Wall Joint Down The Street From Our House…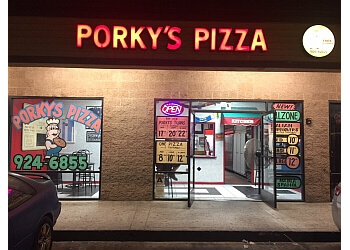 And Their Garlic Knots…
BOMB!!!
But I Gotta Earn It…
Super Bowl LII WOD…
50 Burpees After The National Anthem…
50 Sit Ups To Start Each Quarter…
10 Push Ups For Every Touchdown/Field Goal & Missed Field Goal Attempt/Any Penalty/QB Sack/Interception/Fumble Recovered By The Defense… Right There & Then…
50 Burpees During Half-Time…
50 Burpees @ The End Of The Game… TIME!!!
Even If You're Not A Football Fan… Whatever You're Doing… Have Fun & Relax!!!
It's Been A Rough 4 Weeks…
4 Weeks Of A 9 Week Strength & Conditioning Training Cycle Done!!!
Back In The Day… This Would Be Our Last "Training Week" For A Strength Cycle…
Not Anymore… It's Just Beginning To Get Nasty… 'Nuff Said…
Here's The Numbers You'll Need To Come In Ready With…
This Week… After Saying Hello… You'll Be Asked For A Few Numbers When You Walk In…
Monday: 80% Of Your 3 Rep Max Front Squat & Back Squat…
Tuesday: 80% Of Your 3 Rep Max Strict Press OR Bench Press & Push Press…
Wednesday: Hang Power Snatch… Let Your Coach Know What You Used Last Week…
Thursday: 80% Of Your 3 Rep Max Deadlift…
All Followed OR Incorporated Into Some "Fun"/Different MetCons…
Stay Strong RCCF…
It's Gonna Be Heavy!!!
ALRIGHT… HERE WE GO!!!
Active Rest Day… Figure Out Your Numbers Then Get Out & Do Something Before AND/OR After Watching The Super Bowl!!!
3…2…1…GO!!!
Mando
 2.3.2018 WOD & Some Scores…
In Case You Get Bored Of Watching Football…